Whole Wheat Foucaccia
1 cup lukewarm water
2 tsp. dry yeast
1 cup unbleached white flour

Measure the water into your bread baking bowl and sprinkle the yeast over it. Swish it around to dissolve (I keep my yeast in the basement freezer, so I do this while walking back upstairs to the kitchen) and let it stand for about 5 minutes. The yeast should foam. If it does not, start over with different yeast. Add the flour, and whisk until smooth (I used to always whisk for 109 strokes, for luck, but it's not necessary, and I don't think it ever worked) Cover the bowl with a towel, plate or handy pot lid, and leave it to rise for at least 4 hours, and as long as 8. This mixture is called the "sponge", on account of its bubbles.
1 cup boiling water
1/2 cup bulghur wheat
1 TBLS brown sugar
3 tbls olive oil
2 tsp fine salt

Measure the bulghur into a smallish bowl, and pour the boiling water over. Add the sugar, oil, and salt and let stand to cool. We'll call this the "bulghur mix".
1 cup stone ground whole wheat flour (Robin Hood is one brand)
2-3 cups white bread flour OR unbleached white flour
the sponge
the bulghur mix

Combine the sponge and bulghur mix. Add the whole wheat flour, and enough of the white to make a rather wet, sticky dough. Knead on a floured surface until smooth, about 5 minutes, adding flour as necessary to prevent sticking. (White works better than whole wheat for this.) Form the dough into a ball, and put it back into the scraped out mixing bowl. Cover and let rise until doubled, about an hour. Many recipes tell you to oil the bread bowl, place the dough ball in it, and turn the dough to coat it with oil to keep it moist. This is a good thing to do, but I don't like how messy the oily dough ball can be, and I have not noticed my dough drying out for lack of oil, so I don't do it.
2 TBLS olive oil
1 egg white, beaten with a little water
1 TBLS coarse salt

Pour the olive oil into a baking pan, an 11" x 15" jelly roll pan is good, or you could use a cookie sheet, or a round pan at least 14" in diameter. Dump the dough in and stretch it out. If it won't go all the way to the edges of the pan, wait about 10 minutes, and it should relax enough to stretch. Cover with a damp towel and let rise again for another hour. Preheat oven to 425 degrees. Dimple the dough with your fingertips (this is the fun part, then brush with the egg white, and sprinkle the coarse salt on. Then dimple again to make the salt stick, and place immediately in the hot oven. Bake for about 45 minutes, until nicely browned and crisp. Remove the bread from the pan, and place on a rack as soon as you take it from the oven to keep the bottom crust as crunchy as possible.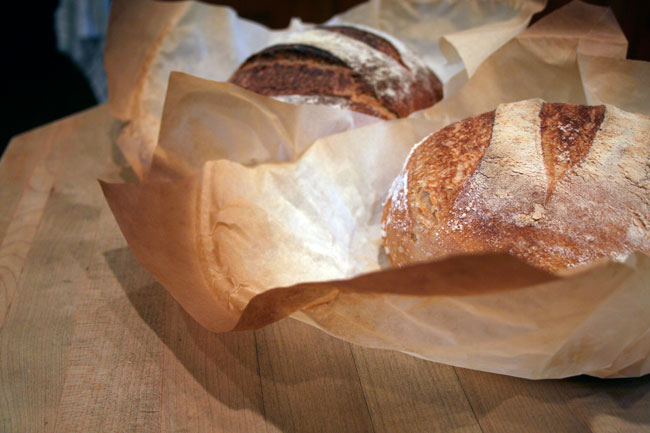 Back to Table of Contents