Pumpkin Mousse
1 packet gelatin
1/2 cup milk (I have experimented with all levels of richness here, and regular whole milk is best, I think)
3 eggs, whites and yolks separated
pinch salt
3/4 cup honey
another 1/2 cup milk
spices: cinnamon, cloves, nutmeg, mace, ginger. I'll never tell the exact amounts, I think I make it different everytime!
1 tsp. vanilla
1 1/2 cups canned pumpkin OR cooked acorn, buttercup, any orange squash, including pumpkin
3 TBLS sugar
Soften the gelatin by sprinkling it over 1/2 cup of the milk in a small bowl. Combine the other half cup milk, honey, salt, and spices in a saucepan, and heat until steaming and almost boiling. Add the gelatin and milk and stir until it is completely dissolved. Whisk the yolks until they break up, then pour in the hot milk mixture in a slow stream. Put this back in the saucepan, and cook, whisking, until it is thickened and almost boiling. Add the pumpkin and cook until a few large bubbles form and burst. Take off the heat and stir in the vanilla.
Beat the egg whites with the sugar until stiff. Fold into the pumpkin mixture.
At this point the mousse can be placed into a mold (3 - 4 cup size), or it is also nice as a pie with a graham cracker crumb or pre-baked pastry shell. It is also good made in individual dishes, like ramekins, or wine glasses. No matter what container you use, chill the mousse overnight until it is firm, and serve with whipped cream.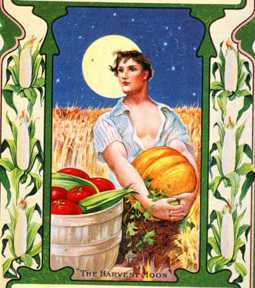 Springfield Seed Co. 1906
Back to Table of Contents