Free-form peach tart
THE dessert of the summer of 1999; all the cooking mags have carried some version of this recipe, called variously free-form tarts or galettes.
Crust (enough for 2 tarts)
1 cup shortening; can be all butter, or part margarine, or vegetable shortening, or even lard, if you are not vegetarian
3 cups flour
3 TBLS sugar
about 1 tsp. salt (if using unsalted butter)
5-6 TBLS cold water
Filling (for one tart):
6-8 peaches
1/4 cup sugar
2 TBLS framboise (raspberry liquor) OR 1 tsp vanilla + 1 tsp almond extract
2 TBLS flour
scant TBLS butter
Special equipment for assembly:
Place the flour and sugar in a bowl, mixer bowl, or work bowl of a food processor. Slice the butter and shortening into pieces and drop in on top. Cut the fat into the flour by hand using a pastry blender or your fingers, or using an electric mixer or food processor. Sprinkle on the water, and mix by any method just until the dough clumps; try not to let it start making a ball. Remove the dough, knead lightly into a ball, divide into two pieces, wrap in plastic wrap or wax paper and refrigerate for at least 30 minutes. This makes enough dough for two tarts, but the extra can be refrigerated up to about a week and frozen for 6 months.

Place the peaches in a medium pot that will hold all of them comfortably. Cover them with cold water, then remove the peaches from the water, place the pot on the stove, and bring to a full boil. Drop the peaches in and count to 30 slowly. Pour the hot water out, cover with cold, and as soon as you can handle them, pull the skins off the peaches (this should be easy). As you skin the peaches, slice them into a bowl. Add 3 TBLS of the sugar and the framboise or extracts, and mix gently.

Preheat the oven to 400 degrees. If you have parchment, line a baking sheet with it. Roll out one of the crust pieces into a large, roughly circular shape approximately 14 inches in diameter. Fold the rolled crust in half (don't press down, just flop it over), slide it onto the cookie sheet, and unfold. Mix the remaining TBLS of sugar with the flour, and spread this in the center of the dough. Spoon the peaches and their juices on top. Fold the edges of the crust in, brushing them with milk to make them stick, making a neat package with an approximately 4-5 inch opening in the middle. Brush the crust of the tart with more milk, and sprinkle with sugar. Bake for about 40 minutes, until the crust is nicely browned and the peach juices are bubbling and thickened.
---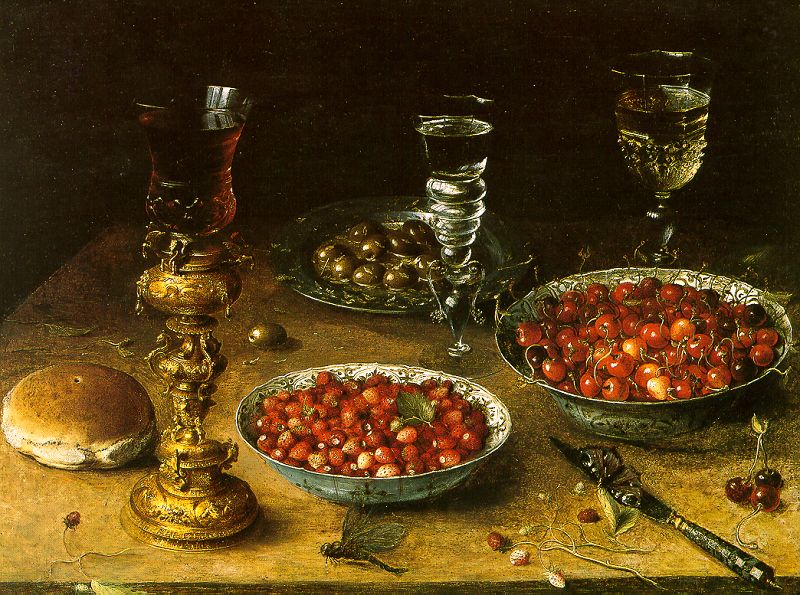 Back to Table of Contents