Peach Cornmeal Cake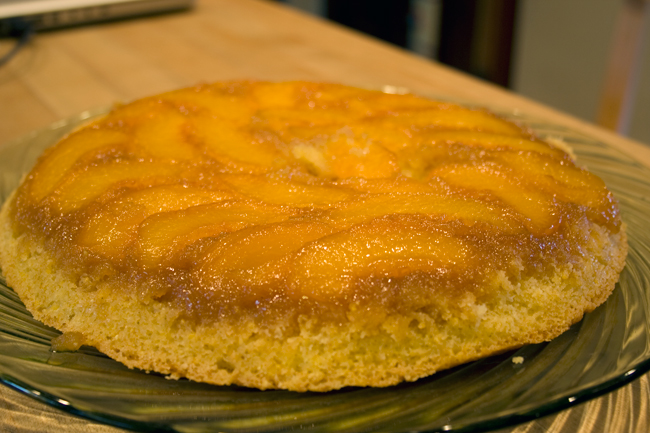 3 TBLS unsalted butter
¼ cup brown sugar
8 TBLS (1 stick) unsalted butter, softened
¾ cup sugar
2 large eggs
2 teaspoons baking powder
1 teaspoon salt
1 teaspoon vanilla
1 1/4 cups all-purpose flour (spooned and leveled)
1/2 cup yellow cornmeal
1/2 cup 2% milk
Blanch and peel the peaches, and slice them: Put the peaches in a pot and cover them with cold water. Remove the peaches, and bring the pot of water to a boil on the stove. Drop the peaches in, and count slowly to 30. Put the pot in the sink and flood with cold water. The skins should slip off; slice the peeled peaches into 10 - 12 slices each.
Melt the 3 TBLS butter in a cast 9 inch iron skillet or some type of pan that can go in the oven. Add the brown sugar, stir and spread it out to coat the bottom fairly evenly. Arrange the peaches on top.
Cream the softened butter and sugar together in a mixing bowl. Add the eggs and mix well. Measure in baking powder, salt, and vanilla. Add the flour, mix, and pour in half the milk. Mix until smooth, and then add the corn meal and the rest of the milk. Mix again until smooth, and then carefully pour over the peaches.
Bake at 350° for about 40 minutes, until firm in the middle. Cool in the pan for 5 minutes, then invert on a serving plate, rearranging the peaches as necessary.