Nukhorns, or Ruggelach
These cookies are based on a Mollie Katzen recipe that originally, she called simply "Crescents". They are a version of a traditional Jewish cookie called Ruggelach, usually made with a cream cheese pastry filled with nuts and raisons or jam (Mollie's idea to make them with cottage cheese). Last year (2009) I made some of the more traditional kind, in addition to these, our family version. When I started making them, I filled them with brown sugar and ground walnuts, and called them nut horns. My younger son, at the age of about one and a half with his mouth full of them, called them nukhorns, and we thought it was cute, and so called them that for a few years. My Dad (and just about every other nominally Jewish person who has ever been handed one) called them Ruggelach, and now in his honor, I have reverted to the Jewish name, too. And in her rewrite of Enchanted Broccoli Forest, Mollie calls them ruggelach, too.)
About half of a 2 lb. bag of brown sugar
1 cup walnuts
2 tsp. cinnamon
1/2 tsp. nutmeg
4 sticks of butter, softened (OK to use the 65/35 margarine butter blend)
1/3 cup of sugar
4 cups of flour
2 cups cottage cheese

Grind the nuts in a food processor until you have a coarse powder with no bits bigger than a match head, stopping before you get to paste. Combine with the sugar and spices and set aside.
Place the butter and sugar in the bowl of an electric mixer, and blend. Add flour, mix, and add cottage cheese, and mix until you have a soft dough. Turn out onto a floured surface, divide into two parts, flatten into disks, and refrigerate for several hours or up to three days.
Preheat oven to 350 degrees. Working with 1/4 the dough (half of a disk), roll out on a floured surface into a large rectangle, about 16 x 18 inches. Spread filling liberally over the dough. Cut it in thirds with a paring knife, making three rectangles, and then cut these into triangles in a zigzag pattern. Roll up like a croissant, and place on an ungreased baking sheet. Bake for about 15 minutes until browned. Remove from sheet quickly (be careful of melting sugar drips) -- it's OK to dump the cookies untidily on a rack, then neaten them later. Makes about 10 dozen small cookies.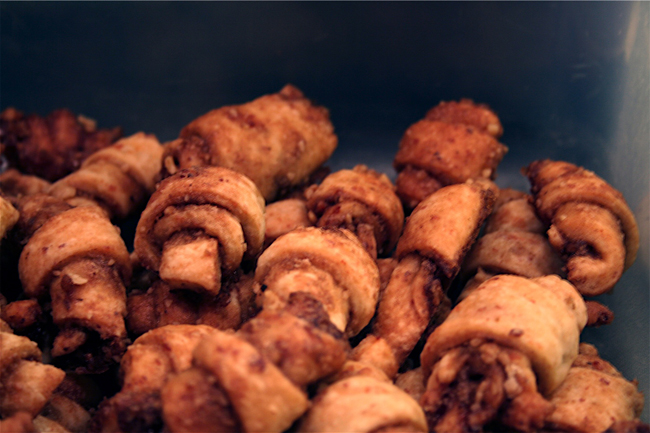 2007's batch, close up
Back to Table of Contents