Best peanut noodles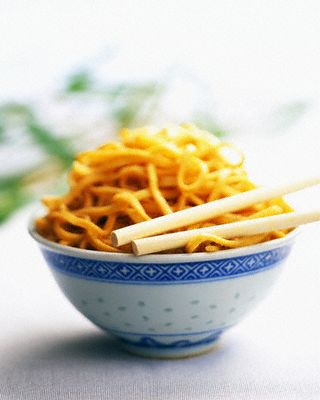 1/4 cup sesame seeds
1/4 cup chunky peanut butter
2 medium cloves of garlic
1 TBLS grated fresh ginger
5 TBLS soy sauce
2 TBLS rice or cider vinegar
1 tsp. hot sauce (like tabasco)
2 TBLS brown sugar
hot water
1 lb Asian noodles, or 3/4 lb dried spaghetti
1 TBLS salt
2 TBLS toasted sesame oil
1 carrot grated
1 cucumber, peeled, seeded, and sliced into Ds
Tofu topping
1 lb firm Tofu
2 TBLS oil
2 TBLS soy sauce
2 TBLS brown sugar
4 scallions sliced thin on the diagonal
Toast the sesame seeds in a small frying pan over medium heat. Reserve 1 TBLS for topping, and then puree the rest in a blender or food processor, with the next 7 ingredients (through brown sugar). When the sauce is smooth, add hot water by tablespoons until it is the consistency of heavy cream (probably 5 tablespoons)
Bring a large pot of water to a boil, and add the salt. Cook the noodles until tender but they still have some bite. Drain, and rinse briefly, then toss with the seame oil in a large bowl.
While the noodles are cooking, prepare the tofu topping. Cut the tofu into 3/4 inch cubes. Heat the oil in a broad skillet (non-stick is good if you are not afraid to use them) big enough to hold the tofu in a single layer. Fry the tofu until golden on one side (maybe 10 minutes) and then turn and do the other side. Mix the sugar and soy sauce, and pour over the tofu. Boil down until glazed. When it is almost done, add the scallions just to wilt them.
Add the vegetables to the noodle bowl and toss, add the sauce and toss again, and finally add the tofu and toss a little.