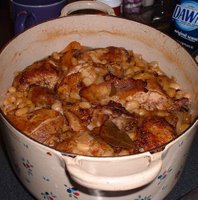 In American measurements:

3/4 cup dried Navy or other white beans
1 3 - 4 pound chicken, cut up, plus 2 extra thighs
2 tablespoons olive oil, plus another 2 tablespooms for frying
2 tablespoons balsamic vinegar
4 cloves of garlic, peeled
3 bay leaves
big pinch dried herbes de Provence
rind of a small orange
3 leeks
Rinse the beans and soak them in cold water for 3 - 4 hours, or overnight, then boil them for 40 minutes. Or speed soak - rinse the beans, place them in a pot and cover with cold water by two inches. Bring to a boil, boil for one minute, then soak for one hour.
Put the chicken pieces in a large metal or glass bowl. Add the olive oil, balsamic vinegar, garlic, bay leaves, herbs, and orange rind. Salt, and grind in black pepper. Toss, and marinate overnight.
Film a large skillet with olive oil, and fry the chicken till it's brown on both sides, shaking off the marinade. Remove the chicen as it's browned to a large casserole with a lid. Wash and slice the leeks and fry them in the same oil, just till they're softened (Nigel warns not to let them brown, since it will make them bitter). Dump the leeks and marinade over the chicken, drain the beans and add them, too, then add enough water so that you can just see it coming up on the sides of the chicken.
Bring to a boil on the stove, then cover and bake at 350° for about 2 hours, checking halfway through to make sure there's still enough broth.
Serve with garlic mashed potatoes.