Toasted pasta with Mushroom Ragoût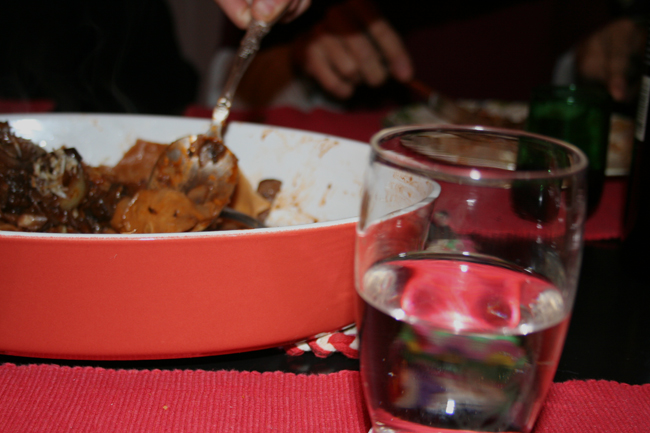 For the Ragoût:
2 pounds mushrooms (I used Cremini, white button, and one giant Porotobella, that weighed half a pound by itself)
1 TBLS butter
1 TBLS olive oil
1 heaping cup chopped onions (I used Cippollini and shallots)
4 cloves garlic, chopped
1 TBLS fresh thyme leaves, and a sprig tossed in the pan
2 TBLS tomato paste
3 TBLS - 1/4 cup red wine
salt and freshly ground black pepper
For the toasted pasta:
1 pound fresh lasagne sheets, or as much as 2 12 ounce packages
For serving:
half a stick of butter (1/4 cup)
1/3 cup grated parmesan
more parmesan in a bowl to pass
good bread & butter
red wine
Preheat the oven to 375°. Dust off any flour or cornmeal on the pasta, and lay it in a single layer on a cookie sheet. Toast in the oven till quite brown, doing as many batches as you need to, depending on how many cookie sheet you have. Cool
Rinse the mushrooms, or rub off any dirt. Melt the butter and oil into a heavy skillet or cast iron pan, and add the onions and garlic. Cook until softened, and add the thyme. Mix well, then add the mushrooms. Cook until softened, and add the wine and tomato paste. Season with salt and pepper, and continue to cook over medium heat until thick.
Heat a large pot of water, and salt it. Break up the toasted pasta and toss it in. Cook till al dente, and drain in a colander. Melt half a stick of butter in the pot, add the pasta, and 1/3 cup parmesan, and toss well.
Arrange the pasta on a platter, spoon the ragoût over, and serve, with bread and butter and a rough red wine.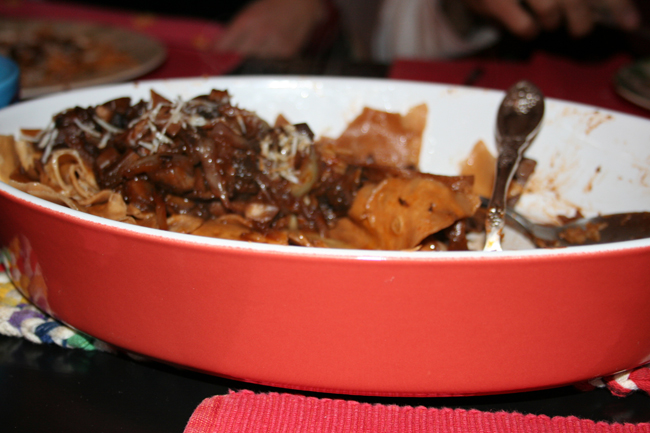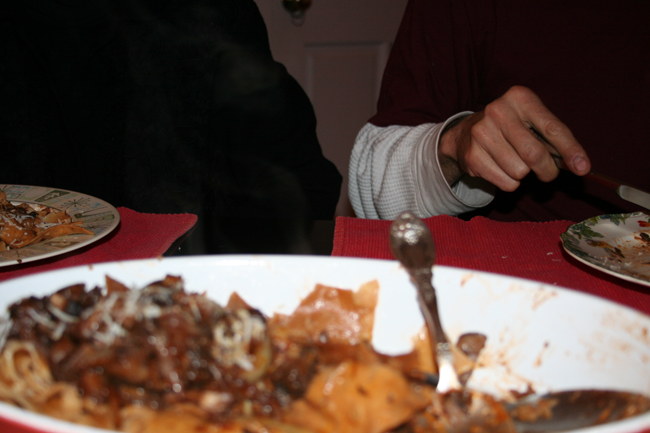 Back to Deb's Lunch