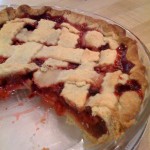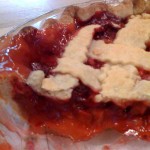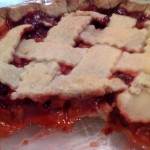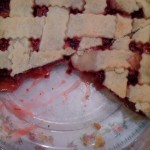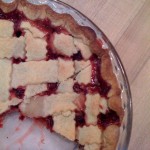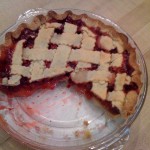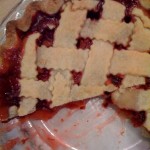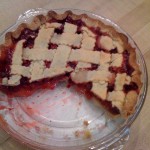 I've been using a recipe I adapted from a book called
American pie : slices of life (and pie) from America's back roads
, by
Pascale Le Draoulec
. It uses flour for thickening, which I like with rhubarb.
Crust for a 2-crust pie*
1 1/2 cups chopped rhubarb
2 cups halved strawberries (can be frozen – we rarely have rhubarb & strawberries at the same time in WI, and when the fresh strawberries come in, seems a shame to bake them!)
1/4 cup flour
2 TBLS cornstarch
1 1/2 cups sugar
pinch of salt – or use salted butter
1 TBLS butter, approximately
Preheat the oven to 400°. Combine the rhubarb and the strawberries in a bowl. Mix the flour, sugar, cornstarch and salt, if using. Roll out the bottom crust and ease it into the pie dish. Put 1/4 cup of the flour mixture in the bottom crust and spread it around. Set the crust in the fridge. Add the rest of the flour mixture to the fruit and toss well. Roll out the top crust and cut it into strips – with a decorative cutter if you have one – the one I use is actually for making the ruffled edges of lasagna noodles. Toss the fruit again, and pour it into the bottom crust – it helps to take it out of the fridge at this point. Dot the fruit with small pieces of butter. Weave the crust strips into a lattice – the American pie book has explicit instructions on page 345 – or just use what you remember from making woven potholders for your mom. Bake the pie for 10 minutes then reduce the heat to 375°. Bake for about another 50 minutes, until the filling is bubbling. Cover loosely with foil if the crust browns too fast. let cool at least 1 hour and eat with vanilla ice cream.
*I have always used my mom's recipe – 3 cups flour to 1 cup butter, with 1 TBLS sugar per cup of flour for a sweet pie. And I tended to use unsalted butter, which makes a good tasting, but not flakey crust. For flakes you need shortening or lard. Recently I've been playing around with both the proportions, and the type of fat – mom used salted margarine – and I have decided that I like the original proportions, but with salted butter, plus two TBLS vegetable shortening. Also recently, I like Earth Balance better than Crisco. I guess that's not so blasphemous – even my mom, born and raised in Cincinnati – both her Dad & brother worked for P&G – thought that Crisco was suitable for greasing pans, not eating. And P&G spun off the Crisco brand in 2002, along with Smuckers & Jif.
Three cheers for @nytimesdining 's fabulous pie section – so much good info + so many good stories + recipes http://t.co/AOJsvA2q8q

— dorie greenspan (@doriegreenspan) July 2, 2013
But, Dorie, my piecrust recipe is not there – here 'tis, enjoy.