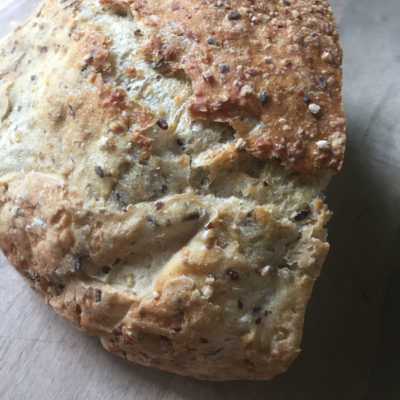 We love the ancient grains bread from Whole Foods, so when I saw this King Arthur recipe, I thought I'd try it.
The recipe's written for their ancient grains flour blend, which is gluten-free, amaranth, millet, sorghum, and quinoa flours, but I didn't have any. I thought I'd use whole wheat and spelt flour, but I didn't have any spelt flour, either. So here's what I used:
1 1/4 cups room temperature water (about 75°F)
1/4 cup honey
2 cups unbleached flour, plus another about 1 1/2 cups
1 cup whole wheat flour
1 cup King Arthur Pompanoosuc Porridge, which is steel-cut oats, bulgur wheat, and flax seed (but you could use any combination of flaked or cracked grains & seeds that you like; millet, rolled oats, sunflower, etc.
1 teaspoon salt
3/4 teaspoon instant yeast
I mixed it up, and let it rise overnight in a plastic bucket with a lid. It was a really wet mix, but I thought the cracked grains needed ample liquid to soak. The next day, I put it into the mixer bowl and machine-kneaded in the extra 1 1/2 cups of flour. I lined a metal bowl with parchment paper and made the dough into a ball, and left it to rise while we biked to the farmers market. I heated a cast iron Dutch oven to 400°, dropped the dough in, and clapped the lid back on. It sank at first but then rose again in the oven. I baked it for 30 minutes covered, and then 15 uncovered.
I think this is just the start of recipe development.
It makes great toast.