You can use this recipe for either pearl tapioca or instant.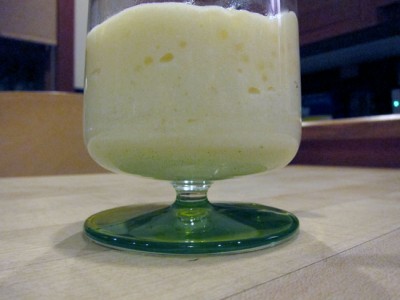 1/2 cup small pearl tapioca, OR 3 – 4 TBLS instant
2 1/2 cups milk (can be skim, 2%, whole, or soy)
good pinch of salt
2 eggs, separated
1/2 cup sugar, divided
1/2 tsp. vanilla – or more to taste
1/2 tsp. almond extract
If using pearl tapioca, soak the tapioca in 2 cups of water for at least an hour, preferably overnight. Drain the pearls, and combine with the milk and the salt in a 2-quart sauce pan with a heavy bottom. If using instant, simply combine the tapioca with the milk and the salt in the same kind of 2-quart sauce pan with a heavy bottom. Cook slowly over medium heat until the mixture is thickened, steaming and almost boiling – the pearls or instant bits of tapioca will swell up and become translucent. Beat the egg yolks with four TBLS sugar until smooth and slightly lighter in color. Blend in some of the hot mixture to temper the yolks, scrape it all back into the pan, and cook for about another minute, stirring – a few big bubbles should form, but don't really let it boil. Remove from the heat, and stir in the vanilla and almond extracts. Whip the egg whites with the remaining 4 TBLS sugar (and maybe another pinch of salt) until stiff. Fold a good spoon full into the pudding to loosen it, then carefully fold in the rest of the beaten whites. I like tapioca the best warm, when it has cooled slightly but not been refrigerated yet – but it is still really good thoroughly chilled the next day.