I don't really like eggplant; it's probably the only vegetable I don't really like ….. well, except for kohlrabi.
I think I am not alone in not liking eggplant – today while looking around for recipes, I ran across somebody's blog post where they said that they didn't like eggplant breaded and fried, which is unusual because EVERYTHING is better fried. I think we've all been served – or made – a gut bomb eggplant parm at least once in our lives: oily breaded and fried slabs of eggplant, layered with cheese and (often oily) tomato sauce. Ooof. I have made a quite nice, non-oily eggplant parm by slicing and salting the eggplant, dredging it in breadcrumbs (that will stick with just the moisture from salting) and baking, and then layering with cheese and sauce.
I do remember a restaurant that we went to that had eggplant fries that you dipped in honey – aah, it was Jerry Traunfeld's Poppy, in Seattle, and the fries still do seem to be Yelping well, tho some people complain about the $9 price tag.
I have always said I like my eggplant well-disguised. Marian Morash's Victory Garden Cookbook has often been my go-to for the disguises, like caponata, where the eggplant's cooked down to a tasty sweet sour-y mush that you can dunk bread into. With capers. I've also made caponata into an appetizer, by surrounding some goat cheese with the caponata, and baking it. Even better to dunk your bread into. The Victory Garden book has a really nice dish, "Eggplant, Tomatoes, and Cream", where you peel and slice the eggplant, salt it and drain it for 30 minutes, then arrange it on a baking sheet, brush lightly with oil, and broil. You sauté some onions in butter, and blanch and peel and chop some tomatoes. Then you layer the onions and tomatoes with the eggplant in a baking dish, and pour half & half with a little cornstarch mixed in over. Top with grated Swiss cheese and bake.
In the spirit of disguising, here's Eggplant-haters Ratatouille, that I further concealed by using it as a pizza topping.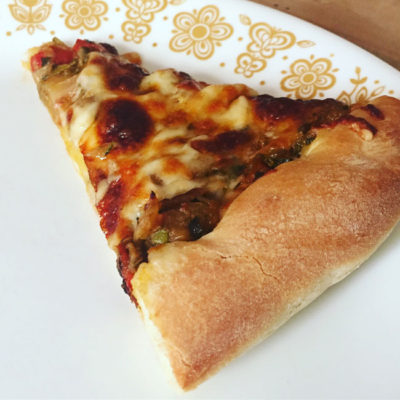 About 1 pound of eggplant
Kosher salt
1/4 cup olive oil
About 1 cup sliced or chopped onion
5 or more cloves of garlic, minced or put through a press
About 1 pound of zucchini
1 nice plump red bell pepper
4-5 tomatoes
2-3 tablespoons pesto, home made or store bought
1 or more tablespoons balsamic vinegar
salt & freshly ground pepper to taste
Peel and cube the eggplant, placing the cubes in a colander inside a bowl or the sink. Toss the eggplant with a generous pinch of kosher salt, and let drain for 30 minutes. Meanwhile, add 2 tablespoons of the olive oil to a wide deep skillet, and cook the onions until translucent, then add the garlic. Rinse and grate the zucchini. Squeeze out as much moisture as you can by handfuls, and add the zucchini to the pan. Rinse, seed, and chop the bell pepper, and add it too. Blanch, peel, seed, and chop the tomatoes, and add them. By now it should be 30 minutes, so add the eggplant. Add the remaining 2 tablespoons of olive oil. Cover the pan, and reduce the heat, and simmer until everything is softened, 15 – 20 minutes. Uncover and cook until it's really dried out and starting to stick a little, another 15 minutes or so. Remove from the heat, and stir in the balsamic vinegar and pesto. Taste and season to your liking with salt and pepper.