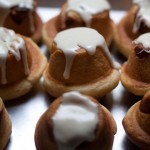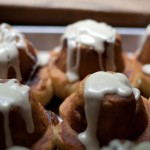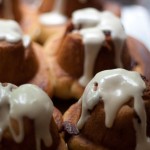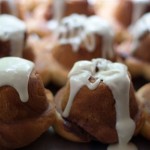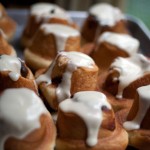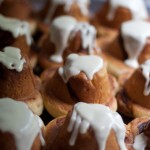 For the dough:
1/4 cup  water
2 packets active dry yeast (about 5 teaspoons)
3/4 cup sugar
2 cups buttermilk (or part buttermilk part water) room temperature
10 TBLS butter, softened
2 tsp. salt (or just a pinch if you use salted butter)
6 – 7 cups unbleached white flour
For the filling:
3/4 cup King Arthur Flour baker's cinnamon filling, and 2 – 3 TBLS water
OR
Use this filling
For the glaze:
2 TBLS cream cheese, softened – microwave for about 10 seconds if you forget to leave it out
2 cups powdered sugar
1 – 2 TBLS milk
1 tsp. vanilla
Method coming RealSoonNow™
Pour the 1/4 cup water into the bowl of a stand mixer. Sprinkle in the yeast, and let it soften. Add the sugar and buttermilk. With the paddle beater, mix in the salt and a cup or two of flour. Start adding the butter by tablespoons. Add enough of the rest of the flour to make a very soft dough. Mix on medium speed for three minutes. Form the dough into a ball in the mixing bowl. Cover with a damp towel, a lid, or plastic wrap, and let rise until doubled in bulk – about 1 1/2 hours.
Butter two 12-well muffin tins, OR a 12 x 12 deep cake pan (if you have one) OR a 13 x 9 x 2 pan + an 8 inch square pan.
Turn the dough out onto a floured surface – I like to use a pastry cloth but I don't use the edges, just the cloth itself. Divide the dough in half. Roll the first half into a large rectangle, about 10 x 15. Spread the dough with the cinnamon filling of your choice, leaving about a 1-inch border on the long sides, and less on the short sides.
Roll the dough up tightly and pinch closed. Cut the roll into 12 slices, and place them in the pan(s). Repeat with the second roll. At this point you can cover the pans and refrigerate overnight. In the morning, remove from the fridge and let rise for an hour, before baking at 350 for about 45 minutes. Or let rise for about an hour, and bake for about 45 minutes.
While the buns are baking, mix up the glaze. Put the cream cheese in a bowl and whisk on the powdered sugar, milk, and vanilla.
When the buns are done, invert into a rack and let cool for 10 minutes. Drizzle the glaze over and let set before eating.