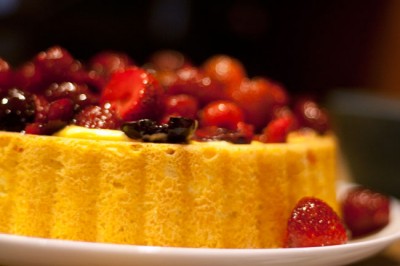 Cake:
2 cups cake flour (I like King Arthur Guinevere – unbleached)
4 1/2 teaspoons baking powder
4 large eggs
1/4 cup warm water
1 cup white sugar
1 cup whipped butter, softened (I like Land O'Lakes)
pinch of salt – or use salted butter
Heat the oven to 325°. Grease, line the bottoms with a round of wax paper, grease the paper, and flour 2 8-inch or 9-inch cakes pans (if you use 8s, make sure they are at least 2 inches deep). Sift the flour and baking powder together.  In an electric mixer with the whisk beater, beat the butter and sugar till well creamed. Add the eggs, one at a time. Add the flour and water, and continue to beat until the mixture is glossy.  Turn into the prepared pans, and bake for 20 – 25 minutes, until just lightly browned, puffed, and firm. Cool in the pans for 10 minutes, then run a thin knife around the edges and un-mold onto a cooling rack or serving plate.
Pastry cream:
1 cup of half & half
4 TBLS light brown sugar
pinch of salt (or again use slated butter)
3 egg yolks, as much chalazae removed as possible – you can kind of squeeze them off with your fingers when you separate the whites and yolks.
1 TBLS cornstarch
2 TBLS unsalted (or salted, but leave out the pinch of salt)
1 teaspoon vanilla extract
Combine the half & half and and 3 TBLS sugar in a saucepan, add the salt if using, and heat until steaming, stirring to dissolve the sugar. Meanwhile whisk the egg yolks, remaining sugar, and cornstarch together in a 2 cup spouted glass measuring cup.  Pour the hot half & half into the yolk-sugar mixture, whisking, and transfer the mixture back to the saucepan over the heat. Cook, stirring with a metal spoon, until thickened. Don't boil, but a few large bubbles should form on the surface. Whisk if necessary to prevent lumps. Remove from the heat, and add the butter and and vanilla. Mix in the pot until the butter is melted, then scrape  into a bowl, and place a piece of plastic wrap or wax paper directly on to the top of the cream. Refrigerate until cold before using – at least 3 hours and up to 48 hours.
Assembly – about 3 cups of mixed fruit – I used raspberries, strawberries, and cherries. Cut the fruit into bite-size pieces, remove hulls and pits. Add 1/4 cup to 1/3 cup sugar, mix, and let macerate at room temperature until the cake is cooled. Spread the pastry cream in the depression in the Maryann cake (Freeze the extra layer for later). Top with the fruit. Eat as is, or with ice cream or whipped cream.