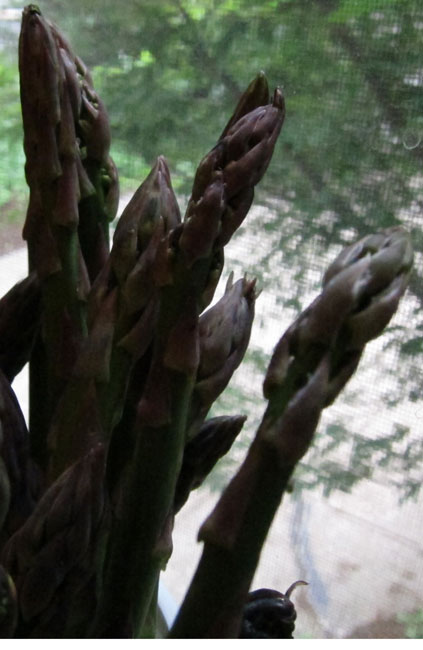 One bunch of asparagus, as shown – about a pound
1 large shallot, chopped fairly fine – about 1/4 – 1/3 cup
4 TBLS butter, divided
1/4 cup flour
3 cups vegetable or chicken broth
1 cup 1/2 & 1/2
Rinse the asparagus. Melt 1 TBLS of the butter in a soup pot, add the shallot, and cook until shallot is softened, while you chop the asparagus into about 1-inche lengths, reserving the tips. Add the asparagus to the shallot, season with salt and pepper, and cook while you make the roux. Melt the remaining butter in a small saucepan or skillet, add the flour and stir until you have a smooth paste. Set aside. Add the broth to the asparagus, bring to a boil, and simmer for about 5 minutes. Whisk in the roux, and stir until thickened. Pour in the 1/2 & 1/2, stir. Puree the soup with an immersion blendor til there are no visible hunks of stalk. Add the tips and cook a few more minutes until the tips are cooked through. Eat with good bread and a salad. Makes about 4 servings.