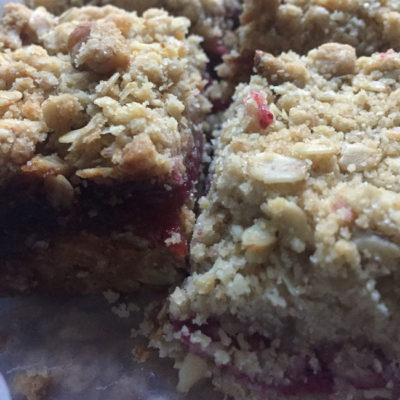 I made these on a Sunday night. They're based on a Fine Cooking recipe that uses what seems to be ridiculously too much struesel – 6 cups for an 8-inch pan – but it sure make the bars delicious! The nutrition info for the Fine Cooking recipe says they're about 380 calories each; high but not nearly as high as the average Starbucks sugar bomb and similar to Starbucks Cranberry Bliss® Bar but I think a larger, more satisfying piece. [I feel guilty for eating them, regardless – they got my pic at the benefit at the library that we attended Friday, and I sure look old and fat]
For the filling:
One 1-lb bag of fresh or frozen cranberries (about 4 cups)
3-4 large ripe but not squishy pears, peeled, cored, and chopped into pieces about the same size as the berrries
1 1/4 cups sugar
1/4 cup water
Combine the cranberries, pears, sugar, and water in a heavy bottomed saucepan. Cover, and cook on medium heat until the sugar dissolves, uncovering to check and stir every 5 minutes or so. Continue to cook covered, reducing the heat as needed to keep it from boiling furiously (or boiling over) until all the fruit is very soft – about 20 minutes. Uncover and cook until thickened – about 10 minutes more.
Reserve a heaping cup for the bars – a glass, 1-cup measure with a spout works well for this – most types of these hold about 1 1/4 cups. Set it aside to cool. Save the remaining sauce for another use – like put it in the freezer until Thanksgiving. You can puree with an immersion blendor or food processor, or leave it chunky.
For the bars:
8 oz. (1 cup, 2 sticks) cold salted butter
2-1/4 cups all-purpose flour
6 TBLS granulated sugar
1/2 packed cup dark brown sugar
1 1/2 cups rolled oats
1/2 cup chopped walnuts
Slice the butter into bits. Place the flour, sugars, oats, and walnuts in the bowl of a stand mixer fitted with the paddle attachment. Mix the dry ingredients, then add the butter and mix until you have a bowlful of crumbs.
Grease the bottom and sides of an 8-inch pan and line the bottom with a square of parchment. Heat the oven to 350°.
Press 4 cups of the streusel firmly into the bottom of the pan. Cover with the cranberry filling. Top with an even layer of the rest of the streusel – you should have about 2 cups – and press down lightly. Bake for 35- 40 minutes until golden brown. Cool completely in the pan before cutting into 16 2-inch squares.
Serve with ice cream and extra cranberry sauce if you like.