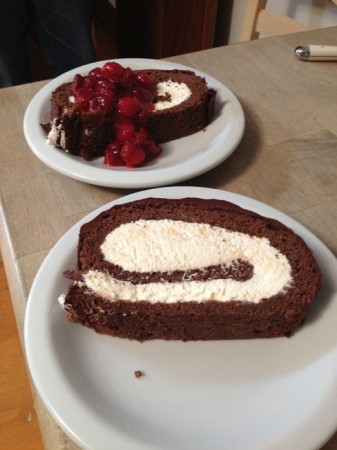 For Passover, or not. I made this for Passover with matzoh meal and potato starch – but you can make it with cake flour and cornstarch the rest of the year. I filled it with whipped cream – which was kosher, since we ate it with a dairy meal. I also used butter to grease the pan. To make it for a meat meal, you could use vegetable shortening or margarine for greasing, and fill it with Italian meringue (or 7-minute frosting), or non-dairy whipped topping. While making it, I was reminded that the vast majority of the instructions for how to make a rolled cake kind of suck – or at least are lacking a few critical details. So here's my humble attempt.
8 large eggs, room temperature
3/4 cup sugar
1/4 cup matzoh cake meal – or sifted cake flour
1/3 cup potato starch, not packed – or corn starch
1/4 cup Dutch processed cocoa, lightly spooned into the measuring cup
2 teaspoons vanilla
a few good pinches of coarse salt
3 tablespoons oil
Special equipment – stand mixer! if you try this with a hand mixer, your arm is going to get really tired – and the eggs will probably still not be sufficiently whipped.
Preheat oven to 350° F. Grease (or butter) a baking sheet or jelly roll pan that measures about 11 by 17 inches. Line with parchment paper. Grease (or butter) the parchment paper (this will help release cake later).
Warm the eggs, still in their shells, by placing them in a bowl and covering them with very hot tap water. Leave the eggs in the water for 1 – 2 minutes. Heat the mixer bowl, too, by filling it with very hot water, emptying it, and then drying it completely. Crack the eggs into the warmed mixer bowl and, using the wire whip, mix on slow speed just to break up eggs. Increase speed, and continue to beat, dusting in the sugar gradually. When all the sugar is in, increase speed and beat for ten to twelve minutes, until the batter is extremely voluminous – mine filled the 5 1/2 qt. mixer bowl.
In a small bowl, whisk together cake meal (or flour), potato (or corn) starch, and cocoa. Mix the oil and the vanilla.
Gently transfer batter into a very large mixing bowl. Sprinkle the dry ingredients on top in 2 – 3 batches, and gently fold in. Pour in the oil/vanilla mixture. Mix gently, trying to avoid deflating – although some deflation is inevitable.
Pour batter into prepared pan. Bake 25 – 35 minutes until cake is set in center, and seems just firm when lightly touched. Cool about 8 minutes. Unmold the cake onto a clean sheet of parchment paper, that has been sprinkled with powdered or regular sugar (depending on how kosher for Passover you are being – regular powdered sugar has cornstarch). Peel off the parchment paper that it baked on. Using the bottom parchment paper, the new piece, as an aid, roll up cake into a jellyroll or log. Don't roll the paper inside the roll – just use it to lift the cake and get it rolling. Wrap log in the parchment paper and a clean kitchen towel. Let cake rest this way about 20-30 minutes – you are "teaching" it to take on the roll shape – you'll unroll it and fill it once it's cooled and learned its lesson.
For the filling, you'll need 3 cups of heavy cream, chilled, about 1/3 cup powdered sugar (or 2 TBLS regular sugar) and 2 teaspoons of vanilla. Chill the mixer bowl and whisk beater in the freezer.
For the ganache, you'll need 8 oz. of bittersweet or semisweet chocolate, or chocolate chips, and 1 cup of heavy cream. Put the chopped chocolate in a heat proof bowl. Heat the cream until it's almost boiling, dump over the chocolate, and let stand for a few minutes. Mix until smooth. Let sit at room temperature for about 30 minutes or until thick enough to spread – you can refrigerate it to speed things up, but keep track of it so it doesn't get too hard – turn into fudge.
To assemble: Whip the cream, until it is past the softly whipped stage that is what you normally want for whipped cream – it will look more choppy. This makes the whipped cream longer lasting as filling. Gently unroll cake and blob whipped cream strategically – the four corners and a few spots on the middle – then, using a metal spatula, spread cream into an even layer. Re-roll cake into a log. Pour the ganache over, letting it drip artistically down the sides. Refrigerate. Slice into crosswise slices to serve. It'll keep for 4 – 5 days in the fridge, but tastes best fresh.