Or rhubarb, or blueberry (I imagine) –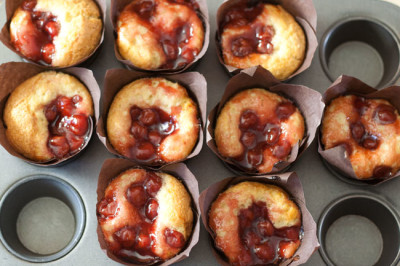 We've always liked the Stella's bakery muffins, especially rhubarb and cherry. It's a kind of plain, cakey, muffin, with the fruit on top. I've done lots of experiments to re-create them. This version, that I came up with back in March, and have made twice since, using up a whole quart of cherry pie filling from Door County, is definitely the best. I still have to try making them with rhubarb –  the mental debate I am having is: rhubarb puree is not as pretty but might stay on top of the muffin better; maybe I could make rhubarb puree and then add a few pieces of raw rhubarb? oooh, maybe the macerated rhubarb I use in my upside down rhubarb muffins would work the best ….
Regardless, the muffin base will remain the same, and I will post pics when I have them.
And, this recipe is especially apropos now, spring 2015, because Stella's has announced they won't make cherry & rhubarb muffins anymore – they're going to more "common" flavors, like blueberry or banana with streusel.
Better than Stella's Bakery Cranberry, Cherry, or Rhubarb Muffins
1 1/2 cups sugar
1 cup mild vegetable oil, like Canola
1 1/2 large eggs*
1 1/2 teaspoons vanilla
1 cup buttermilk, sour milk**, or a half/half mix of milk and yogurt
1 1/2 teaspoons baking soda
1/2 teaspoon salt
3 cups of flour (I like unbleached white)
2 cups cherry pie filling, or cranberry sauce, or chopped rhubarb (macerated rhubarb? rhubarb sauce?) or blueberry compote***
Heat the oven to 375°. Grease a 12-hole muffin tin, or line the wells with papers.
Combine the sugar, vegetable oil, and eggs in a mixing bowl, and whisk until smooth. Add the vanilla and buttermilk, and whisk until combined.  Measure in the baking soda, salt, and flour, switch to a rubber spatula (we still call them rubber, but most of mine are silicon now), and fold together.
Scoop into the muffin tins, using a muffin scoop, or the spatula. Top each muffin with about a tablespoon of pie filling, or whatever fruit you are using. If you have a cookie scoop, it works great for this.
Bake for about 25 minutes until raised and firm.
—
*To divide an egg in half, beat an egg in a small bowl or ramekin. Pout half into the muffin batter. Use what's left for your scrambled eggs, or egg wash, or to give your cats a treat.
**To make sour milk – if you don't have buttermilk or sour cream or yogurt – measure 1 TBLS of white vinegar or lemon juice into a spouted, 1-cup measure. Pour in milk to the 1-cup line. Let sit for 5 minutes or so to sour.
***For blueberry compote:
2 cups blueberries fresh or frozen blueberries (no need to thaw)
1/4 cup sugar
2 strips lemon zest, peeled from an organic lemon
1 tablespoon fresh lemon juice
1 TBLS cornstarch
Combine the blueberries, sugar, and zest in a 2-qt. saucepan. Cook, stirring, over medium-high heat, until juices are released and sugar has dissolved, about 2 minutes for fresh berries, and about 5 for frozen. Mash the berries with a potato masher.
Stir together the lemon juice and cornstarch, then stir this into the blueberry mixture. Boil, stirring, for a few minutes, until thick and clear. Se aside to cool – fish out the lemon zest and throw it away before using the compote.
I made rhubarb puree, but I couldn't see topping the muffins with it – too gloppy. So I'm saving it for another use. I made these with a heaping 2 cups chopped rhubarb – tipped all but about 1/2 cup of it into the batter, then topped each muffin with 5 or 6 pieces and sprinkled with sugar.