I signed up to test a cookie recipe for Food52 – Basler Leckerli, a Swiss or German bar cookie. It's a lot like the Joy of Cooking Lebkuchen that I make every year – honey-sweetened dough, with blanched almonds, spices, and candied peel. A little bit of rum or kirsch. Whiteish glaze on top.
There's a recipe for Basler Lackerli in the December 1994 Gourmet, and they're on the cover – they're the rectangles above my thumb. I've made all of the next three rows. The Biberli, little wedges of gingerbread with marzipan inside are one of my favorites, and the cinnamon-almond star cookies, that are gluten-free – Zimmetstern. I've even made the  chocolate heart ones – but for Valentine's day, not Christmas.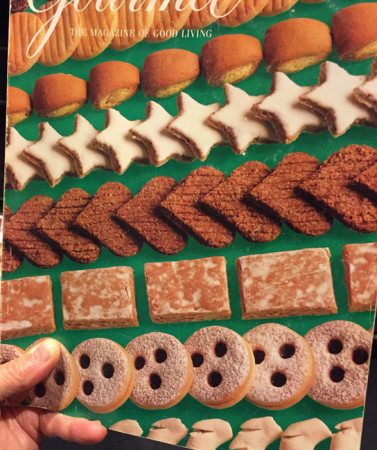 The Food52 recipe has a nice story, abut how the author got it from a former boyfriend's German mother, and still cherishes the cookies, though the boyfriend's long gone. It's different from all the other similar recipes I've seen, in that it has eggs.** I think there's way too much glaze – the Gourmet recipe calls for 1/4 cup of sugar, 1 TBLS water, and 1 TBLS powdered sugar, poured on and brushed until the glaze is white and crystallized. The Food52 recipe calls for 3/4 cup of sugar and 1/2 cup water, and says to "shower" the glaze on. It also says to start the glaze a few minutes before the cookies go into the oven – wrong. the glaze only has to cook about 15 minutes, and my cookies had to bake about 25 (though the recipe says 12-18 – that must be if you roll them really thin. My first batch of glaze turned into a solid lump of hard sugar before I could get it onto the cookies. The other anomaly is decorating each piece with an almond – they seem usually to be plain. It's also not completely necessary to roll the dough out – you could pat it into the pan, as the Gourmet recipe suggests, or, use this nifty roll IN the pan method. I actually thought of it, too, and tried it, using the rolling pin to get the dough out the edges of the pan, but my rolling pin is too long.
Here's the headnote I sent with my tester comments, we'll see if I get published.
This recipe promised to transport me to the land of Snow White, but instead I found myself still in my own kitchen on a Tuesday night at 10:30, with an over-abundance of crusted sugar to clean up. It comes with a nice story – a traditional recipe, passed down from the German mother of the author's ex-boyfriend. My German grandma baked a lot of cookies, but not Basler Leckerli, so I turned to other recipe sources: Joy of Cooking and Gourmet. After testing, I find I prefer those other sources, that might lack a family connection, but taste better.
I like the following picture I found, from a Web Services company called Namics. It's from an online advent calendar, with pictures of their staff and recipes for appropriate Christmas foods. A giant Basler Lackerli in the shape of a Roman numeral two, no almonds and hard white glaze, is being bitten into by Raphael Joss, senior project manager.
The recipe: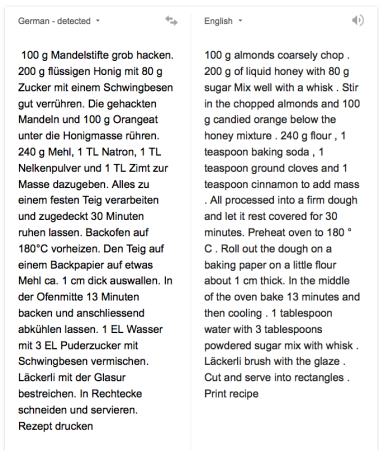 **Well, the Dec. 2015 issue of Food & Wine magazine has a recipe with one egg, but still less glaze, and no almonds on top.