I made this salad with ingredients from my first CSA box of the 2016 season – asparagus, radishes, and sweet salad turnips.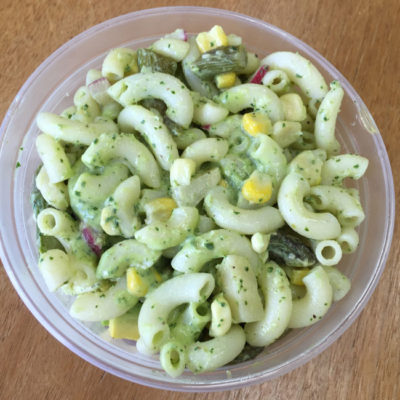 For the asparagus:
1 pound asparagus
about 2 TBLS olive oil
freshly ground pepper and kosher salt
For the salad:
1/2 pound elbow macaroni
1 generous cup of frozen corn
2 – 3 radishes, chopped
2 – 3 salad turnips, chopped (or something else crunchy – celery, carrots – cucumbers would probably be too wet)
one small clove of garlic, minced or put through a press – or not, to taste
3/4 cup grated Parmesan cheese
juice from the other half of the lemon that the aioli calls for
one batch of Food52 Radish Leaf Aioli – I didn't have quite enough radish leaves, so I added some arugula, and a teaspoon of sugar, upped the mustard, and used green garlic instead of a clove
Prepare the radish leaf aioli – I doctored it with a little sugar, and used part radish leaves and part arugula, and more like a heaping teaspoon of mustard – 1/2 a teaspoon – what's up with that?
Heat the oven to 375°. Rinse the asparagus and drain or pat dry. Cut it into 1-inch lengths; if you like, leave the tips a little longer so they stay intact. Place the asparagus pieces on a baking sheet, drizzle the olive oil over, grind in some black pepper, and toss. Place in the oven and roast until tender, not more than 10 minutes. Let cool.
Cook the macaroni in boiling salted water until it's just done – not crunchy or mushy, but firm. Somewhere in the 8 – 12 minute range. While it's cooking place the frozen corn in the colander that you'll use to drain the macaroni. When the macaroni is done, pour it and its boiling salted water over the corn, and that will cook it just enough. Transfer the corn and macaroni to a bowl large enough to mix in the other ingredients.
Add the chopped radishes and turnips and Parmesan cheese, then dress the salad with the aioli and lemon juice. I didn't use all the aioli – I had about half to 2/3 cup left, that I can't wait to try on potatoes! Taste, and add salt, more lemon juice, more sugar, or pepper to taste, and serve. Also really good topped with chopped avocado, and the pale green matches.