Unless you're on heavy tranquilizers, or really not paying attention, you know that the Republican Presidential candidates' debate was in Milwaukee, on Tuesday. The headline on the Milwaukee paper when I brought it in Wednesday morning was "Race Comes to Milwaukee" which made no sense at all to me. "WTF", I thought, "race has always been in Milwaukee, it's one of the most segregated, if not THE most segregated, Northern city".
Anyways the headline reminded me of two, or maybe two and a half, race-related things, that I think I put into a half-written blog post that I never published. If I
did
publish it and I'm repeating myself, I apologize (which reminds me of watching the last half of
The Giver
a few nights ago; they say that a lot).
I think the best thing Bryan Stevenson said when he was here to give his Go Big Read author talk (behind UW NetID; those of you not affiliated with UW can watch his TED talk) was when he said that the real evil of slavery in the US is that we made it race-based. Slavery had existed for thousands of years, as a state that almost anyone could end up in, through bad luck or consequences of war, but could also get out of, not that it was easy, but it was possible … until we made slavery race-based. Think Game of Thrones – or the Roman empire. Born a slave, die a slave, is not necessarily true in either of those cultures.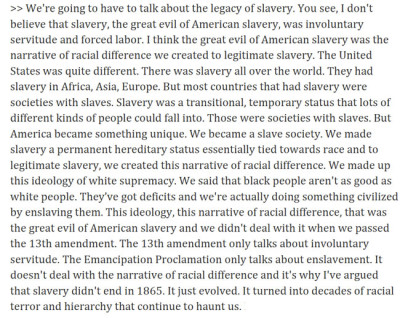 Wisconsin Public Radio did a show a couple of weeks ago, that I think I heard because I was up and in the kitchen a little earlier than usual on a Saturday, on white privilege. One of the commentators on the show, Naomi Zack, a philosophy professor at University of Oregon, said another thing that stuck with me. She doesn't like talking about white privilege in conjunction with events like the Michael Brown shooting, and other violations of Black people's rights. Her reasoning, which seems sound to me, is that being able to walk down the street and not get shot, to not see your children shot, are not privileges, they are rights. So we shouldn't talk about white privilege in contrast to these violations of rights.
But hey, I'm white and middle class. But I'm female and I'm old. I've suffered very little serious hardship in my life, unless you count always feeling like I should do the right thing, instead of whatever the fuck I wanted to. I by no means wish to equate this with the years of systematic racism that Black people have been subjected to, but I still can remember feeling discriminated against, in the 1970s, because I was female, and young. So I'm with Naomi Zack – not keen on reducing the discussion to white privilege – it does seems a reduction, to me.
All happy families are alike; each unhappy family is unhappy in its own way.
Leo Tolstoy, Anna Karenina
Where you could easily sub in person for family.