OK, here's the plan – I'm in Chicago, came down on the bus on Tuesday for the tree lighting. I started cookie season with the jam cookies on Sunday – 225 and they are all safe in the freezer – and on Monday, lebkuchen, or Basler Leckerli – a new blending of old recipes, plus the glaze from this one that I tested for Food52, one batch glaze for a double batch of cookies.
Today, Wednesday, we're going to be tourists – after I finish grading, which I am avoiding right now – and then go to the opera, Merry Widow, with Renee Fleming, who sang a few Christmas songs at the tree lighting last night. While we were standing around for an interminable 45 minutes waiting for them to light the tree.  Made more interminable due to the set up at Millennium Park. You could either see the tree or the stage. They had a parade of local dignitaries and performers – TV news anchors, the mayor, Ms. Fleming – but we opted to be by the tree, so couldn't see and could only barely hear what was on stage, made even more difficult because of the helicopters circling, but that turned out to have nothing to do with the tree lighting. We walked back south separately – Mark went up to Xoco to buy carryout sandwiches & guacamole for supper, while I want straight down Wabash, wanting to get back to the apartment to open an online meeting for students. Besides the streets closed and congestion for the tree lighting, there was also a huge police presence, especially around Roosevelt Rd. The cops were there to try to control demonstrators marching after the release of video showing a police officer shooting a kid, 16 times. A year late. We probably should've walked half a block and joined in – but old fogeys that we are, we watched the demonstrations on the news instead.
I finished grading by 10:00, and went off to have breakfast at Little Goat, where we our party of two was seated immediately, not like our wait on a Saturday morning with both kids. We split a cinnamon roll – Little Goat's thing is to serve them warm with lots of cream cheese frostng melting over. We both had the small biscuits & sausage gravy, one biscuit. I think I should make biscuits and gravy with the tube of bulk breakfast sausage I got from the new pig last week. Mark got 2 eggs on the side, and we split a side of potatoes. Shoulda had a Bloody Mary.
We walked to the Art Institute, past a gigantic Whole Foods, Marianos, trendy restaurants – I am still marveling at how gentrified the West Loop has become.
We walked through Steiglitz and David Adjaye shows, then walked through Millennium Park again, and up Michigan Avenue, to sit in various couches at Crate & Barrel. Now that my kids have grown up and left home and my cats are getting old, I am thinking it's time to replace the old black leather clawed up Ikea couch.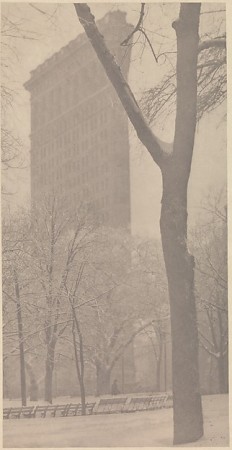 @BioDivLibrary @UDCMRK seen at AIC – MEMO facility Adjaye show pic.twitter.com/rKs4afzGo0

— Debra Shapiro (@DebsLunch) November 25, 2015
Tomorrow, Thanksgiving Day, the plan is to dodge the parade, and get the 10:30 holiday schedule train back to Harvard, and drive to Madison to be back early afternoon-ish, and start Thanksgiving prep. And make one cookie kind, the Moravian Ginger Thins. And watch the Packer game and eat Primanti Bros sandwiches. And call family members and friends who are celebrating Thanksgiving elsewhere.