Advising week this year – which was last week already – at the library school probably wasn't as busy as some. I had about 17 30-minute student appointments and last spring it was 21. I think I had more other meetings in between and all around the student appointments this year, though.
I'm feeling uninspired and un-creative – I haven't posted a recipe in months. And it's that time of the year when it's basically impossible to photograph food at night in my kitchen, under its harsh lights.
I made a big batch of naan last Thursday night, to go with a curry – I used this recipe from the New York Times that seems to be attracting notice, but I made it with cauliflower & potatoes instead of chicken.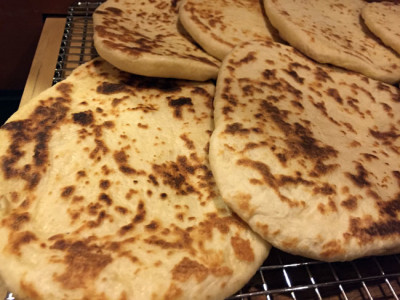 On Friday we were going to a concert, and I had some big ideas of what I could cook (that I don't exactly remember now) but in the end Mark had a sandwich and I had Halloween candy.
I went for Tipi's kale deal – 6 bunches for $12 – even though I knew it could potentially be upsetting to Mark to have all that kale in the house. I started blanching it and packing it in cartons to freeze on Thursday and finished on Sunday. I left three bunches whole leaf and chopped the rest in the food processor, ready for kale-a-kopita.
On Saturday, I roasted peppers and steamed and pureed pumpkin and made another batch of the Food52 hard squash hummus, with kabocha squash this time. Which made a very thick and dry hummus, and it's spicier, too. There's still the neck of a large butternut in the fridge waiting to be made into something. We went to an early movie (Bridge of Spies) and after, for dinner I made a pasta with some of the kale and ends of goat and feta cheeses and pepper from my CSA box and some cream and half & half from the back of the fridge. We ate it with salad and the roasted shallot dressing I made last weekend. Mark made sure to not get any kale in with his noodles.
We left the Halloween candy in the vestibule with the inner doors locked and outer doors open. And my funny looking pumpkin on the porch.  It's supposed to be a slice of pie with a fork underneath from a Food52 template.
Sunday morning was an almost full English breakfast – no sausages and no mushrooms. I took a walk before breakfast and photographed leaves. Since I used up the pork in the baked beans, later Sunday evening I made some of the extra rice I'd cooked to go with the curry, that I originally thought would be made into pork fried rice and I even bought fresh ginger at the Saturday market, into coconut milk rice pudding. And I made applesauce – pureed with my immersion blender, and I'm not quite sure if I like its smoothness, or if it's too babyfood-like. And in the true spirit of using stuff up, fig butter to use up the dregs of two bottles of red wine. Yum.
Still on my stuff to cook list – Butternut squash and black bean chili? Or Squash gratin. Broccoli with peanut sauce. Green chili stew. Mexican lasagna (I never fry the tortillas when I make this, and I always leave out the raisons). Squash and beans and kale and cilantro …