… to O'Hare. Our AFS student signed up for a trip to California, and was required by the travel service to fly out of O'Hare, so rather than getting up at 3:00 AM to get her to the airport in time for an 8:10 Saturday morning flight, we drove down on Friday night, and got rooms at the Carleton Oak Park, a.k.a. where my parents always stayed when I lived here, and where Mark always stays for Lollapalooza. Two other girls, one from Spain and the other from Switzerland, who are living in Beaver Dam and Juneau for their exchange years, are going on the trip too, so we were five. We walked over to Gepetto's on Oak Park Ave. (a.k.a. our favorite pizza place when we lived here 20 years ago) and had pizza for a late dinner when we got in, at about 8:30. The space is looking a little in need of a refurb, but the pizza was still good.  And tho the restaurant was pretty empty, there was a steady stream of folks picking up pizza to go.
We were back from taking the girls to the airport before 9:00. It went quick because, since we had two adults, Mark went in with them, and I waited in the cell phone lot. We parked the car back at the Carleton, and switched the rooms around – somehow, the room with two double beds, where we put the girls for Friday night, was the room we had for two nights, and  the room with one king bed was only one night. So we needed to switch that, and headed off to the Starbucks, that's in between Oak Park and River Forest.
Then we took the L into town, and went to Hot Tix, and got the last two half price seats for Gypsy.
We headed towards the Art Institute, but I decided I might perish of hunger walking around, so we quick stopped at a Pret a Manger and split a  yogurt and a scone and a bottle of water. Thus fortified, we crossed Michigan Avenue again, and entered the Museum. We saw two Christophers – Williams and Wool. I have always loved this dishwasher shot of Wiiliams' –
But I found the show to be annoyingly pretentious. Many of the images were visually appealing – but you had to read the labels to know what was going on. I spent a ton of time trying to figure out one of the sets of photos, Angola to Vietnam. We had been through one of the galleries, and turned a corner, and there was a row of b&w shots of what seemed to be botanical models of plants and flowers. I thought it was something else at first, not part of the Williams show at all. I located the overall label for the gallery, and the title Angola to Vietnam seemed to go with that row of shots. I looked at the labels of the individual photos, and finally realized that it was images of these botanical specimens from different countries, arranged in alpha-fucking-betical order. The overall arrangement of the show was annoying too – in three different galleries; the main photography gallery on the lower level of the old part of the museum, and two galleries in the new modern wing, and the only place where the entire introductory label was presented was at 2nd floor level on a wall in the new Piano wing where you couldn't really read it.
Wool was more fun – more purely visual gags. His word art, and his stencil & silk screen art, dribbled and smeared over.
Mark liked these two: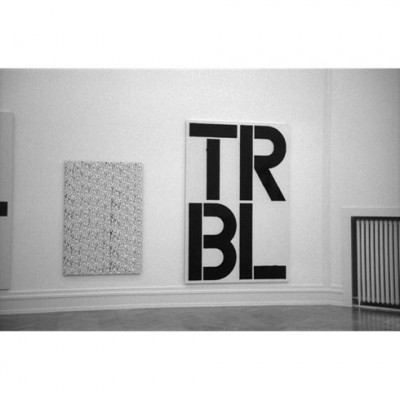 And I think this one was my favorite: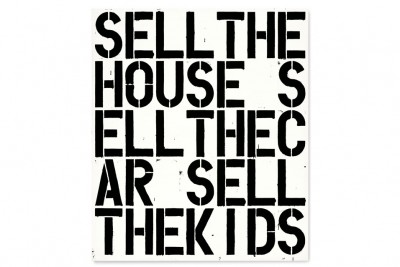 We met John & Al at Little Goat for lunch. That was even more fun. At first they told us an hour and a half wait, but after 20 minutes, it was down to 30, and we actually got seated about ten minutes after they told us the 30.